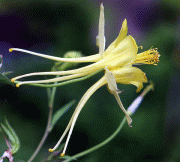 Aquilegia -
Columbine
A large group of perennial plants in the Crow-Foot family, RANUNCULACEAE. 70 species at least with 21 species in the US, hybrids are common and so is variation do to isolation. 100's of garden selections have been produced, many going back many years. Many F1, hybrids now are on the market with uniform habit and flower color. They do best in light, sandy soil that is moist and has good drainage. They like a sheltered location with some sun. Some of the stronger species can be transplanted into heavier garden soil, even heavy clay and made to succeed; but young seedlings need a light sandy loam soil to develop a strong healthy root and crown structure. The seed of most Columbines is rather slow in germinating and it is necessary to keep the soil moist until the young plants are up and established. When large enough, the seedlings may be pricked out and planted into pots to get a start before being set into the permanent border or wherever they are to be placed.
Plants have slender woody rhizomes and tend to be short lived, 3 to 6 years for most, producing good numbers of large black seeds that readily self sow were happy. Some like full sun and others like open shade but the middle is best for most. Moist well drained soils. Starting plants from seeds is not difficult but often requires an investment in time and a period of cool moist stratification. The species more so than the highly selected varieties, which have had some or most of the dormancy needs breed out. Plants mostly will not bloom until the second year, with a few exceptions. We have had good results sowing seeds in mid summer and producing nice blooming plants the next spring. Breeders are also working on this too with a few varieties now first year blooming.
Every garden should have some plants, with their large showy flowers. A number are nice rock garden subjects, some easy to grow and others a challenge, the larger forms work well in any garden soil and make nice fresh cut flowers for the table. when growing more than one type or species crossing is the rule, and sometimes with surprisingly good results but sometimes disagreeable progeny is produced too.
| | | | | |
| --- | --- | --- | --- | --- |
| Code | Name | Image | Price | |
| AB23-A2 | Aquilegia 'Bunting' | | $4.50 | |
| APW3-A3 | Aquilegia 'Music Red & White' | | $3.50 | |
| AQ2B-A7 | Aquilegia vulgaris 'Clematiflora Mixed' | | $2.65 | |
| AUL1-A1 | Aquilegia vulgaris 'William Guiness' | | $2.50 | |
| AQU8 | Aquilegia vulgaris 'Barlow Choice Mix' | | $2.65 | |
| AVWS-A7 | Aquilegia vulgaris 'Woodside Strain' | | $2.99 | |
| AQUDM | Aquilegia vulgaris 'Double Mixed' | | $2.35 | |
| AQU7 | Aquilegia 'Alchemist's Gold' | | $4.95 | |
| AQU1 | Aquilegia x caerulea 'Maxi' | | $2.65 | |