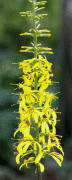 Ligularia
All species like cool moisture retentive soils, when starting the seeds keep medium moist not wet. Germination is spread out over a number of weeks and seedlings start off slowly - so it's critical that the pots or trays do not dry out during the germination period. It can take 1 to 2 weeks from the time the seed begins to sprout before the leaves emerge above the soil level. Drying during this period is most often fatal. Seedlings spend the first few months growing a taproot.
Once seedlings have some size they are fast growing plants with deep roots that do best in deep, humus rich, moist soils. Heat and drought lead to wilting.
Once plants are large they are easy to divide, the hardest part is getting them dug from the ground- do not worry about cutting off most of the roots- they often will go 4 to 8 feet deep in the right soils. Once you have the plants dug, use a sharp knife and cut the crowns into sections. Division is best in early spring or late summer. Plants will often self seed and they can and do hybridize between the different species and forms, producing interesting offspring often. They are not true shade plants- growing best with 6 hours of sun in the morning or late afternoon. They will perform well in open bright shade with hours of dappled sun.
Pictured is
Ligularia przewalskii